This post is dedicated to the honorable

First Lieutenant Stephen Atkins Swails, from Kingstree, South Carolina. 1st Lt. Swails was the first African-American soldier promoted to commissioned rank as a line officer, and was a member of the 54th Massachusetts Regiment. Swails served throughout the Civil War's entirety, retiring in South Carolina and Washington, D.C., as a mayor, lawyer and politician.
Update Feb 10, 2022: Removal of POS confederate monuments
Be lucky I'm not solely responsible for removal of confederate monuments. I'd have all removed immediately, with future monuments banned. Then, I'd break down the monuments into materials, and take the materials from the removed monuments and use them to rebuild homes, churches and schools destroyed by confederates' evil, bastard child, kkk. https://www.splcenter.org/20220201/whose-heritage-public-symbols-confederacy-third-edition
August 30, 2022: THANK GOODNESS!
Panel recommends removing Confederate names from military schools https://www.axios.com/2022/08/30/commission-us-military-academies-remove-confederate
FYI: If you're pro-confederacy, and come to this site, in defense of the Civil War losers and founders of kkk, you'll have your ass handed right back to you with facts about confederacy.
Note that I always write "confederate", and related, in lower-case letters, because they are low-lifes, not to be revered, nor honored in any way, shape or form. No taxpayer monies should be used to maintain monuments, parks, buildings nor ANYTHING in their honor. That includes banning taxpayer-funded recognition for confederate-kkk Ross Barnett Sr., after inciting Ole Miss riot against James Meredith; publicly and proudly supporting Byron DeLaBeckwith, the savage, despicable murderer of WWII Veteran and Civil Rights Activist Medgar Evers; and paling around with, and celebrating the savage kkk creeps who murdered Emmett Till.
Some of the most horrific history is being rewritten by the worst of society, confederates, and rewritten to white wash their horrific and evil actions. The leader behind the rewriting of confederate history is the cons, oops I mean, "sons of confederate veterans" group, which is actively erecting monuments to honor confederate creep and ku klux klan's (kkk) founder, Nathan Bedford Forrest, as well as using state funds to have license plates available to honor low-life, creep Nathan Bedford Forrest.
Misguided persons still preach that, "Civil War was not about slavery, but simply about land and states rights," a BOLD LIE. One confirmation of that bold lie: confederates, including Jefferson Davis, were able to keep their land AFTER the war ended. Jefferson Davis also funded and planned the murder of President Lincoln, and STILL kept his land and all assets after being bailed out of prison by Cornelius Vanderbilt.
President Lincoln knew the pure evil of confederates, and had an executive order to ban them from the country. Over 650,000 Civil War dead was reason enough. But confederate sympathizer, Andrew Johnson, reversed that order, and even restored all rights back to confederates, which gave rise to Nathan Bedford Forrest. Forrest established kkk to ensure that non-whites would never have any of the freedoms that President Lincoln, Secretary of State and Emancipation Proclamation author William Seward, and U.S. Rep. Thaddeus Stevens (Pennsylvania) worked tirelessly for.
Lincoln made a choice: allow evil, unconscionable human suffering, or fight the cause of unconscionable human suffering (confederates):
The Short-Lived Promise of '40 Acres and a Mule' | HISTORY https://www.history.com/news/40-acres-mule-promise
Timeline | Abraham Lincoln and Emancipation | Articles and Essays | Abraham Lincoln Papers at the Library of Congress | Digital Collections | Library of Congress https://www.loc.gov/collections/abraham-lincoln-papers/articles-and-essays/abraham-lincoln-and-emancipation/timeline/
The sole reason for Jefferson Davis funding and planning the murder of President Lincoln and assassination attempt of William Seward through Mary Surratt, John Surratt, John Wilkes Booth, Lewis Powell a/k/a Lewis Payne a/k/a Lewis Paine, George Atzerodt, David Herold: President Lincoln intended to give full civil and voting rights to non-whites on April 15, 1865, which is the day after his assassination. I strongly believe confederate creep, Vice President Andrew Johnson was part of the plot to kill President Lincoln, because all that was fought against, before and during the Civil War, lived on through confederate-kkk degenerates, which fought 24/7 against voting rights and any type of equality for non-whites, and still does, through today's Sons of confederate Vets-Strom Thurmond-GOP. "kkk" continued their public lynchings until 1986, with the lynching of Michael Donald, while Thurmond's "Southern Manifesto" became the outline for white supremacy in politics.
Below are the words of confederate leaders leading up to Civil War. These are the inferior intellect creeps who actually believe non-whites are not human, and that women are property. They, along with slavers, who also wrote US Constitution, actually wrote that down: non-whites and women are property. They believed man-made words 🙄 to be true, in spite of science, and their own clutched bibles - Genesis 10:2, Deuteronomy 28 (which ironically references
- alien, foreign, wooden cross worshipers, unknown to God), Numbers 12:1-10 (Moses' Ethiopian wife, which is black all day long), and Exodus 4:4-10). You can misinterpret bibles, but you cannot change geography, historic artifacts, and DNA of region.
But let the klan/confederates remain as stupid as they wanna be, while we move around them, leave them behind where they belong, and laugh at them to their faces and behind their backs. 💯 It's not our job to educate The Stupids, but is our job to advance beyond their ignorance, aggression, and regression.
John C. Calhoun
South Carolina representative and STAUNCH racist. You know he flipped out when he saw the genitalia of black male slaves. Calhoun's unbending rage, captured in every photo of him🤣, confirms his tiny endowment bitterness! teachingamericanhistory.org/library/document/slavery-a-positive-good/ Whenever you see a confederate, or confederate worshiper, especially the loudest one, know they're someone with the tiniest male genitalia ever. The monuments of LOSERS are the only large things they can erect.
"Abolition and the Union cannot coexist."

Yale honored-creep and bigot, John C. Calhoun
We of the South will not, cannot, surrender our institutions. To maintain the existing relations between the two races, inhabiting that section of the Union, is indispensable to the peace and happiness of both. It cannot be subverted without drenching the country in blood, and extirpating one or the other of the races. Be it good or bad, [slavery] has grown up with our society and institutions, and is so interwoven with them that to destroy it would be to destroy us as a people. But let me not be understood as admitting, even by implication, that the existing relations between the two races in the slaveholding States is an evil:–far otherwise; I hold it to be a good, as it has thus far proved itself to be to both, and will continue to prove so if not disturbed by the fell spirit of abolition. I appeal to facts. Never before has the black race of Central Africa, from the dawn of history to the present day, attained a condition so civilized and so improved, not only physically, but morally and intellectually.

Inferior intellect white supremacist John C. Calhoun
Yale University has a college named after this sick, evil person, John C. Calhoun: www.salon.com/2015/06/24/the_ivy_leagues_confederate_flag_problem_why_is_a_yale_college_still_named_after_john_c_calhoun/
---
James Henry Hammond
South Carolina representative and a pedophile, who raped his own teen nieces, and was publicly proud of it, because women were property, and still are in today's sons of confederate vets-Strom Thurmond-GOP. K-12 schools, streets and highways in South Carolina are named in "honor" of Hammond. When Strom Thurmond's servant and "boy", now U.S. Senator Tim Scott, was contacted to rename Hammond schools, given Hammond was both a pedophile and staunch racist, Tim Scott's office simply replied with the standard hatriot answer: "it's part of our heritage". Yes, heritage of hate, ignorance and savage violence towards non-whites, Catholics and Jews.
www.pbs.org/wgbh/aia/part4/4h3439t.html
In all social systems there must be a class to do the menial duties, to perform the drudgery of life. That is, a class requiring but a low order of intellect and but little skill. Its requisites are vigor, docility, fidelity. Such a class you must have, or you would not have that other class which leads progress, civilization, and refinement. It constitutes the very mud-sill of society and of political government; and you might as well attempt to build a house in the air, as to build either the one or the other, except on this mud-sill. Fortunately for the South, she found a race adapted to that purpose to her hand. A race inferior to her own, but eminently qualified in temper, in vigor, in docility, in capacity to stand the climate, to answer all her purposes. We use them for our purpose, and call them slaves. We found them slaves by the common "consent of mankind," which, according to Cicero, "lex naturae est." The highest proof of what is Nature's law. We are old-fashioned at the South yet; slave is a word discarded now by "ears polite;" I will not characterize that class at the North by that term; but you have it; it is there; it is everywhere; it is eternal.

The Senator from New York said yesterday that the whole world had abolished slavery. Aye, the name, but not the thing; all the powers of the earth cannot abolish that. God only can do it when he repeals the fiat, "the poor ye always have with you;" for the man who lives by daily labor, and scarcely lives at that, and who has to put out his labor in the market, and take the best he can get for it; in short, your whole hireling class of manual laborers and "operatives," as you call them, are essentially slaves. The difference between us is, that our slaves are hired for life and well compensated; there is no starvation, no begging, no want of employment among our people, and not too much employment either.

James Henry Hammond, the "heritage" that South Carolina's Tim Scott obeys.
---
Low-life creep, conspirator, slaver, murderer Jefferson Davis, who couldn't accomplish anything without a black person, clearly!
President of the confederacy, who declared secession from the United States.
teachingamericanhistory.org/library/document/farewell-speech/
They have no reference to the slave; else, how happened it that among the items of arraignment made against George III was that he endeavored to do just what the North has been endeavoring of late to do – to stir up insurrection among our slaves? Had the Declaration announced that the Negroes were free and equal, how was the Prince to be arraigned for stirring up insurrection among them? And how was this to be enumerated among the high crimes which caused the colonies to sever their connection with the mother country? When our Constitution was formed, the same idea was rendered more palpable, for there we find provision made for that very class of persons as property; they were not put upon the footing of equality with white men—not even upon that of paupers and convicts; but, so far as representation was concerned, were discriminated against as a lower caste, only to be represented in the numerical proportion of three-fifths.

Jefferson Davis, whose name should be stripped from all public places.
More on creep-Davis' speech:
www.senate.gov/artandhistory/history/common/generic/Speeches_DavisJefferson.htm

https://en.wikipedia.org/wiki/Jefferson_Davis

www.confederatepastpresent.org/index.php?option=com_content&view=article& id=117:speech-of-jefferson-davis-before-the-mississippi-legislature-nov-16-1858q-where-he-advocates-secession-if-an-abolitionist-is-elected-president-&catid=41:the-gathering-storm
Hatriots will try and spin Jefferson Davis' bs as "fighting for his independence and freedom." 🤨 Yup, the freedom to steal, enslave, rape, torture and kill other human beings at will, while denying every single basic right to another human being. And even THAT evil and greed was not enough, as confederates, who couldn't work, nor get their OWN people to work, also wanted the right to steal FREE US persons, AND then sell off captive person's family members for more profits or as acts of revenge. And confederate low-lifes did all this evil while claiming to be a "Christian" or "servant of God." So, WHOSE freedom and independence??!! Davis' words clearly mean only his freedom, and whatever he wanted. Yup, sounds about #badgradestrump, David Duke, Steve Bannon and all things hatriot.
The master mind of the so-called Republican party, Senator Seward, has in a recent speech at Rochester, announced the purpose of his party to dislodge the Democracy from the possession of the federal Government, and assigns as a reason the friendship of that party for what he denominates the slave system. He declares the Union between the States having slave labor and free labor to be incompatible, and announces that one or the other must disappear. He even asserts that it was the purpose of the framers of the Government to destroy slave property, and cities as evidence of it, the provision for an amendment of the Constitution. He seeks to alarm his auditors by assuring them of the purpose on the part of the South and the Democratic to force slavery upon all the States of the Union. Absurd as all this may seem to you, and incredulous as you may be of its acceptance by any intelligent portion of the citizens of the United States, I have reason to believe that it has been inculcated to no small extent in the Northern mind.
In fact, the trial was quietly shelved, leaving Davis free to spin the story into a "lost cause." In his two-volume book "The Rise and Fall of the Confederate Government," published in 1881, Davis argued that the Civil War was the North's fault and the South was simply fighting for its crinoline and plantation way of life. Enslaved people weren't abused, Davis believed. To the contrary, "you cannot transform the Negro into anything one-tenth as useful as slavery enables him to be..."

1861 words of low-life confederate creep, Jefferson Davis
Ain't that some ish? "You cannot transform the Negro," huh? Davis' sorry ass could not be tranformed into a WORKER. His entire family sat around and used force and terror against captive persons, persons who have transformed MORE than Davis ever could - turned nothing into something, time and time again! This is what is upsetting hatriots today — they are seeing more admiration of non-whites, while their own hatriot history is revealed as repulsive to the world. If Davis was so superior or intelligent, he would have developed an economic plan that did NOT involve slavery. Superiority is the ability to work with all, survive with all, without destruction. Racism, bigotry, and mass kidnappings, tortures, rape and delighting over human suffering are the characteristics of inferior intellect savages.
---
Next up...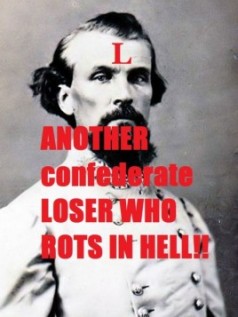 Another worthless, confederate LOSER who rots in hell, where he belongs!
Nathan Bedford Forrest
Again, superiority is the ability to get along with all, without fear of others because of education (science and math), and thrive together, which leads to growth and respect for one another, and all things.
Do Forrest's words matter?! These are the only words and books that should be banned from all history. The evil bastard and outlaw launched kkk and Sons of confederate Vets to further WHY he fought for confederacy., Forrest's tiny, unwanted "endowment," sent him into a fit of rage, to assert power over others more endowed AND smarter than him.
Forrest's sole purpose for starting the ku klux klan: keep white women from black men, and white women from preferring the FREE black male's genitalia more than Forrest's and his "tiny member club"'s pals and supporters. When you see Sons of confederate Vets memorabilia anywhere, it's a symbol for persons with tiniest penises on earth. FACT! Men with large penises don't have time for hate clubs (little penis energy) and erecting (no pun intended 🤣) statues and monuments for losers, as they're busy fighting off advances, from all races, because they're desired, coveted. 🤣😂
A man with a little penis, who just got stomped by one of greatest military forces on earth, can't move on. He's got no slaves to control, and sees his tiny, unwanted penis, in shower or restroom, after all others leave (because he's embarrassed). Their loyal, unsatisfied women are bred to believe they're the "best of the best", while their women remained alone, awaiting their inferior intellect's return from raping slaves or starting wars, both of which were, and still are, more desired than them.
Low-life confederates/white supremacists today are so busy creating bills and laws to establish control and make others inferior to them, because of their lack of endowment, power. Can't satisfy at home nor a brothel, therefore, confederates have to get into politics to screw others, including by legislating for the right to rape children. Rapists, via confederate legislators, now have more rights than women.
Forrest actually loved raping black women and children, including black boys, because he wanted slaves to fear his tiny endowment. Slaves feared death and bondage, not Forrest, whom any slave could have killed, at any time. Slaves knew they were worth far more and stronger than Forrest, who couldn't even build anything. Slaves worked together, bided their time, as they knew better days were ahead, while Forrest's time and history would be forever limited and repulsive until the end of time. Slaves, for enduring worst of history, are respected, admired, while Nathan Bedford Forrest's name is pure garbage, 💩, worst than Samuel Mudd, and synonymous with inferior intellect Adolph Hitler, also beat down by greatest military, including Tuskegee Airmen and Navajo Code Talkers.
Forrest is the garbage that sons of confederate vets wants to honor and worship. Tiny endowments of a feather flock together, apparently.
And I sooooo love interracial marriages, dating and unions! They're a reminder that we're stomping on Nathan Bedford Forrest's dream 24/7!
Forrest was a slave trader and cotton farmer. While the purpose of the
was to keep races separate and prevent equality for non-whites. White women were also property to be raped at will, but only by white males, who used rape as a form of power. It didn't matter if a white female desired and/or loved a black male, kkk would decide, for generations, who was allowed to sleep with whom, while kkk members raped, and killed, at will. To aid and abet kkk, local and state laws were created to prevent interracial marriages, dating, and even consensual sex, as well as the mere presence of anyone non-white, unless non-white persons placated kkk, in slave-like form after Civil War. Candace Owens Farmer, who worships and placates council of conservative citizens/klansman Tony Perkins, is one example of non-whites tolerated, from a distance. Owens-Farmer promotes words and legislation of the confederacy.
Note: sons of confederate vets and kkk, to honor rapist-creep-lowlife Nathan Bedford Forrest, are aggressively trying to rewrite confederate loser Nathan Bedford Forrest's history, i.e., sanitize his filth! However, where both sons of confederate vets and kkk miserably fail, is the monstrosity of a tribute to Nathan Bedford Forrest in Tennessee. It contains not only all kkk symbols, including "13 Colonies" flag, but it is a complete representation of the logo image for ku klux klan.
---
Alexander Stephens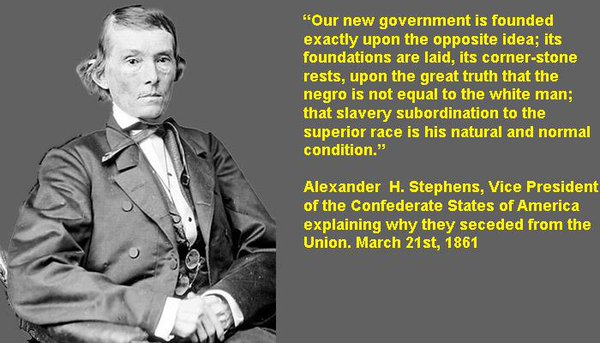 confederate creep Alexander Stephens, who looks like one of the "Deliverance" rapists!
Vice President of the confederacy and another staunch racist who designed the confederate flag, which is worshiped by kkk, neo-confederates and neo-nazis! Stephens was a feeble man, who never married, nor had any children.
---
I See There Are A Lot Of GOP Supporters On The "Internets" Falsely Claiming That The Civil War Wasn't Over Slavery! pic.twitter.com/IEIbdcxsRx

— Indict Bush & Co (@warcrimesbush) June 20, 2015
---
Evil bastard children of the confederacy
ku klux klan
D.C. (David Curtiss) Stephenson
Grand dragon of Indiana kkk, which is home of the first official kkk chapter, thus why Pence was chosen as bad-grades-trump's VP, which brought out David Duke, in praise of bad-grades-trump.
"Murder Wasn't Very Pretty": The Rise and Fall of D.C. Stephenson
The Grand Dragon of the Klan and prominent Indiana politician had a vicious streak that had horrifying consequences
https://www.smithsonianmag.com/history/murder-wasnt-very-pretty-the-rise-and-fall-of-dc-stephenson-18935042/
DC Stephenson's trial: https://famous-trials.com/stephenson
In 1925, the Indiana KKK was the largest state branch in the Klan's "Invisible Empire." The conviction in November of that year of D. C. Stephenson, the powerful grand dragon of the Indiana Klan, for the murder of Madge Oberholtzer led to a dramatic decline in the organization's membership and political influence. What began as a vicious rape on a night train from Indianapolis to Chicago ended with arrests of Indiana's governor and other high state officials.

https://famous-trials.com/stephenson
The More You Know, The Easier It Is To Reject Cons, oops we mean, Sons of confederate Vets' Ideology:
Additional links regarding DC Stephenson, one of Nathan Bedford Forrest's most ignorant and vile offspring:
https://digitalresearch.bsu.edu/digitalcivilrightsmuseum/items/show/111
https://en.wikipedia.org/wiki/D._C._Stephenson
---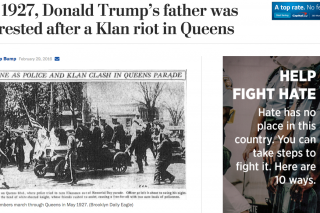 Fred Trump, bad grades-Trump's father rioting WITH kkk in Queens, NY, not against, but WITH.
Donald John Trump, Sr. a/k/a Impeached Pussy Grabber
bad grades-Trump's father, Fred Trump was arrested while rioting WITH, not against, but with his fellow kkk members: www.washingtonpost.com/news/the-fix/wp/2016/02/28/in-1927-donald-trumps-father-was-arrested-after-a-klan-riot-in-queens/
And here's Pussy Grabber-bad grades trump and his father demonstrating the "values" of ku klux klan:
United States Files Suit Against Brooklyn Cooperative Apartment Building Trump Village For Fair Housing Act Violations
www.justice.gov/usao-edny/pr/united-states-files-suit-against-brooklyn-cooperative-apartment-building-trump-village
The first time badgradestrump makes local NYC news, and it's him being profiled with his racist
father and equally degenerate mother:
'No Vacancies' for Blacks: How Donald Trump Got His Start, and Was First Accused of Bias
www.nytimes.com/2016/08/28/us/politics/donald-trump-housing-race.html?mcubz=1
(Just in case the new Department of "Injustice" under Sessions decides to whitewash Fred & Pussy Grabber Trump's history, here's a copy of the news release: https://app.box.com/s/xm4or2c0ujvlru57jr97y8ncbk45yl04 (.pdf file))
---
Other sons of confederate vets-kkk-Strom Thurmond-GOP members: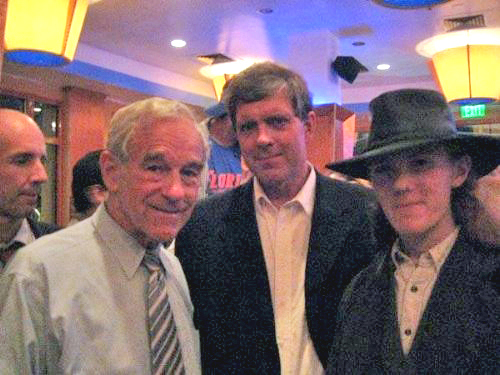 klan only supports their own! klansmen Ron Paul and Derek and Don Black - https://www.independent.co.uk/news/world/americas/derek-black-white-nationalism-ku-klux-klan-neonazis-ideology-a7364966.html / https://www.washingtonpost.com/national/the-white-flight-of-derek-black/2016/10/15/ed5f906a-8f3b-11e6-a6a3-d50061aa9fae_story.html
Members include David Duke; Ross Barnett Sr., who congratulated klansman Byron De La Beckwith for murdering World War II veteran Medgar Evers, as well as promoted flying of losers' confederate flags at all Ole Miss games; James Earl Ray; Cecil Price; Roy Bryant; JW Milam; Robert Chambliss; Edgar Ray Killen; H.C. Strider; U.S. Rep. Steve King of Iowa; Mike Pence; Bob McDonnell; Tate Reeves; both Ron and Rand Paul; and numerous military and law enforcement members, including William Bolton, who was recently arrested for stealing military weapons for white supremacist groups:
Council of Conservative Citizens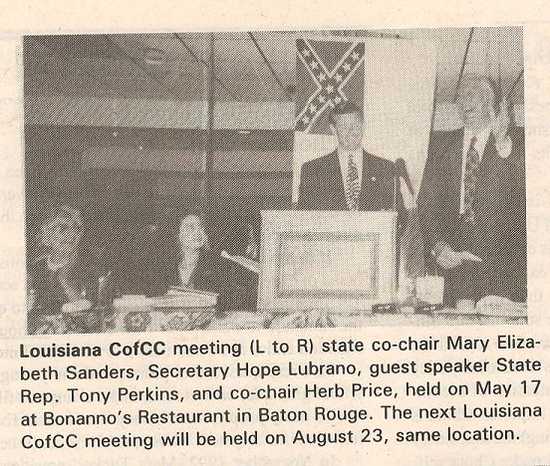 Family Research Council's Tony Perkins and badgradestrump cabinet appointee, who is also a driving force behind today's Strom Thurmond GOP
Members include die-hard segregationists and pro-confederates such as Haley Barbour, David Duke, Mike Huckabee, Tony Perkins of the same Family Research Council that convicted sex offender/pornographer Josh "19 And Counting" Duggar presided over, Trent Lott, Strom Thurmond (rapist who co-authored the Southern Manifesto along with Carl Vinson, which U.S. Navy has a ship named for in his honor, while hatriots screamed to prevent naming of a ship to honor Gabrielle Giffords).
klansman/Council of Conservative Citizens and #badgradestrump appointee, Tony Perkins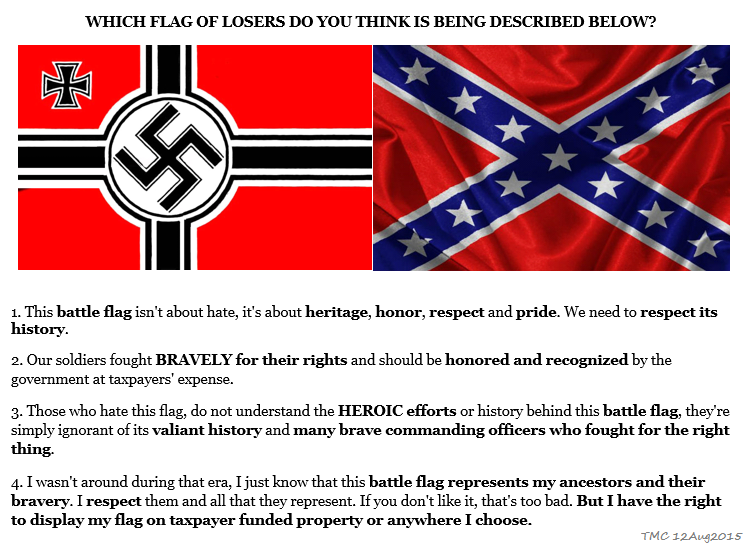 The meaning AND purpose behind these two flags are the same, except Germany had enough sense to outlaw Nazi flags and related memorabilia. Meanwhile U.S. uses taxpayer funds to honor the same type of misguided and offensive "beings" as Nazis: confederates.
---
All of the above is why I don't placate confederates, kkk and the like. And I refuse to sanitize their history, or stand by silently while their tyranny and terrorism is sanitized. All local, state and federal confederate monuments, signs and flags should be removed asaFp. All buildings, streets and parks should be renamed IMMEDIATELY. Nazi Germany doesn't fund naming of anything for Adolph Hitler. In fact, because the nazi flag is banned, neo-nazis fly the confederate flag instead, because both flags have the same meaning and ideology. The Supreme Court in Texas has also banned sons of confederate vets (lowercase intentionally!!) license plates, which is a start, while hatriot idiots such as Bob McDonnell wasted no time honoring confederates immediately after being elected as Governor of Virginia. Bob McDonnell was imprisoned for fraud.
And this person, Tammy Marrall Dempsey https://www.facebook.com/aryanangel73 trolls around sites publicly stating, "confederates were honorable and should be respected for fighting with their brothers", yea their stupid, racist, disgusting brothers. Notice the "Aryan Angel" username. Tammy Marrall Dempsey also wants to know if we should ban sheets, because her confederate brothers, kkk, wears them. No explanation needed for that or this hatriotism, https://twitter.com/LadySandersfarm, given the confederacy history above.
Dear degenerate confederates... and good riddance!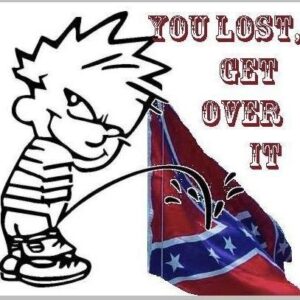 But, the only thing else I have to say to confederate low-lifes is this:
F*CK Jefferson Davis-Nathan Bedford Forrest confederates and their evil bastard child, kkk! You LOST! Take your treasonist flag and shove it! Then, choke whistling Dixie on your way out!
| alexander h stephens | arkansas governor mike huckabee | badgradestrump | byron de la beckwith | civil war losers | confederacy | confederate general nathan bedford forrest | confederates | council of conservative citizens | david duke | dc stephenson | Donald Trump | dylann roof | edgar ray killen | fred trump | george zimmerman | insurrectionists james henry hammond | jefferson davis | jim demint | john c calhoun | john cornyn | join the klan fliers | ku klux klan fliers | ku klux klan grand wizard nathan bedford forrest | ku klux klan nathan bedford forrest | maurice bessinger | mike huckabee | mike pence | mississippi governor ross barnett sr. strom thurmond | nikki haley | rand paul | robert chambliss | robert e lee | ron paul | senator tim scott | south carolina | steve king iowa | tammy marrall dempsey | tate reeves | trent lott |
---
Comments