Okay, to be fair, I removed "much" from title above, I will give "conservative" typo-benefit-of-doubt in their tweet below.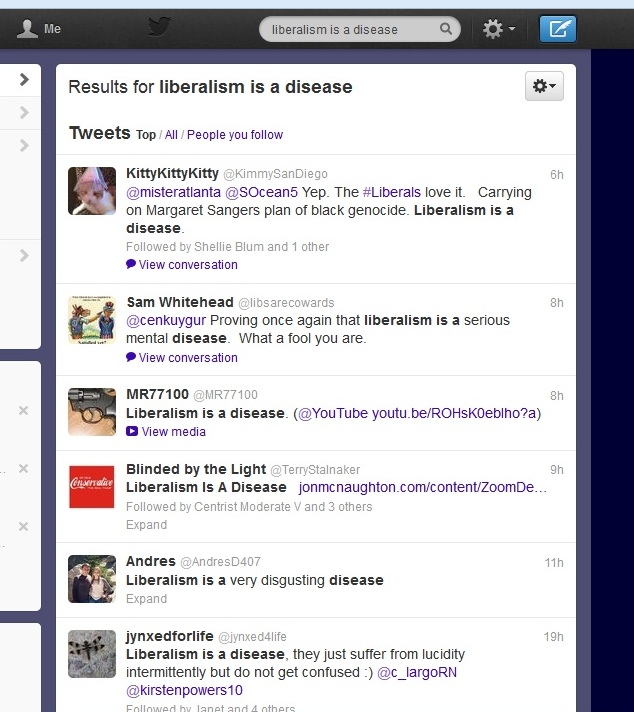 As a registered Independent I typically don't notice 24/7 political talk, but it's now become standard by GOP "christians" to use "liberal" as an offensive term and even call it a disease: https://twitter.com/search?q=liberalism%20is%20a%20disease&src=typd
https://app.box.com/s/hlnw88cwpzu1i6bk161z (.pdf viewable online)
Many GOP "christians" advocate extinction for liberals to wipe out the disease. Didn't
Hitler try this??!! How'd that work out? 😐 And ironically, Hitler is called "liberal" in same breath by same persons who usually have an "Obama as Hitler" avatar.
I definitely know I'm not liberal because I'm pro-death penalty for serial killers and child predators like a mutha! My dream job: sniper in case Joseph Duncan III escapes prison! I wouldn't even take a lunch break or vacay!
And know I'm not "conservative" because I'm greatly offended by massive wealth AND poverty (#1 child killer worldwide) in same society, especially when massive wealth is earned via exploitation and fraud WITH tax breaks while middle-class and poor are targeted to make up for the revenue-losing tax breaks and infrastructure (U.S. Constitution, Article 1, Section 8) becomes first on neglect-block. But…
Liberalism defined by #tcot-"christians": CARING FOR WELL-BEING of person AFTER they're born, PREVENTING their death by any means necessary. (#tcot advocates for fetuses while heavily promoting guns then rejoicing over the killing of a child, Trayvon Martin, with a gun – called a "victory" 😮 )
Hallelujah!

— Ann Coulter (@AnnCoulter) July 14, 2013
The following tweet re-tweeted by Ann Coulter:
Happy that Zimmerman acquitted, sad that in the year 2013 a media-led race mob can cause a show-trial to happen in the first place.

— Jim Hughes (@TheJimHughes) July 14, 2013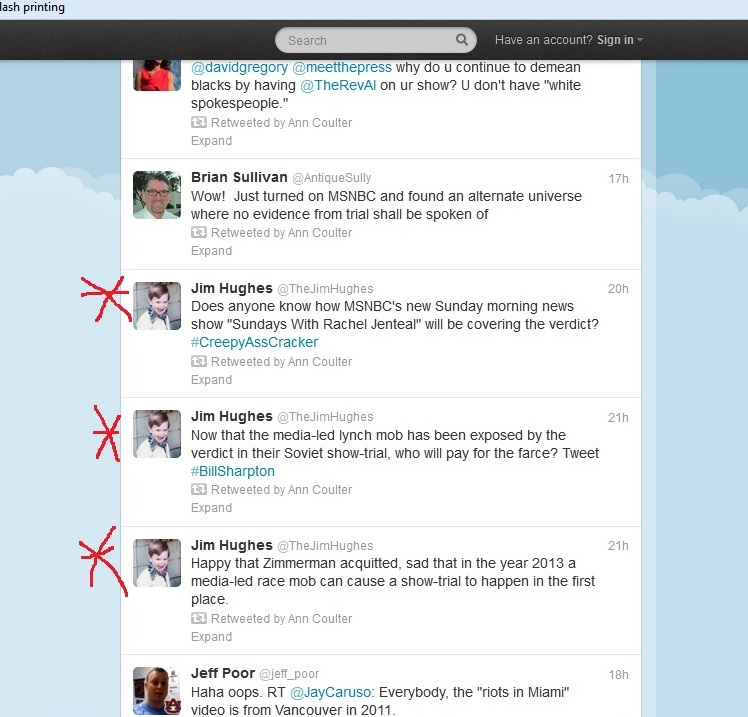 😐 Now I can restored Ann Coulter's twitter profile as "blocked", and wash my hands after clicking embed for that "christian"-conservative wisdom.
Liberalism defined by #tcot-"christians": eradicating poverty (#1 killer of children worldwide) & ensuring education which benefits all. An educated society is a BETTER society, but #tcot christians object to education and especially science.
Liberalism defined by #tcot-"christians": equal rights without deliberate hindrance, obstruction (including bomb threats, biased attacks).
Liberalism defined by #tcot-"christians": tolerant of all cultures including those who hate them, & do not even seek to get rid of those who hate them, but allow them to simply exist.
Now #tcot-"Christians" (persons claiming to adhere to words of Christ), tell me again why liberalism is a bad thing?
---
Related Link:
https://twitter.com/search?q=liberalism%20is%20a%20disease&src=typd